Wirral Symphonic Wind Band
(Formerly Wirral Community Wind Band)
About The Band - A Brief History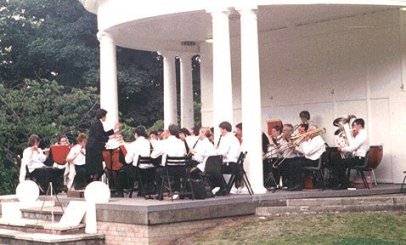 The Wirral Symphonic Wind Band was formed in September 1987 with the aim of providing an opportunity for musicians from all walks of life to come together and make music. The first rehearsal comprised only eight players and it was nearly a year before numbers had risen sufficiently, to twenty, enabling the band to give its first concert. Since those early days the band has increased in numbers to a forty plus ensemble.
Membership is by subscription and members are drawn from teaching, students, housewives and all areas of commerce and industry. The age range of the band spans nearly fifty years. Rehearsals are held each Monday evening at Lingham School, Town Meadow Drive, Moreton, Wirral.
We celebrated our tenth anniversary in 1997 with a concert and buffet at Oldershaw School, Wallasey, the location of our first ever concert. Many past members and friends attended and they joined the band for the finale of the concert. The concert provided an opportunity for the band to thank the many people who have freely given their time and assisted the band throughout the first ten years.
There were many musical highlights during the bands first ten years including three invitations to accompany the mounted ride of the Household Cavalry at the Wirral Show. The band is a member the British Association of Symphonic Bands and Wind Ensembles (BASBWE) and has competed in the National Concert Band Festival on a number of occasions achieving gold awards in the national finals in 1996 and 1998. The band was invited to perform a concert as part of the 1998 conference held at the Royal Northern College of Music (R.N.C.M.), Manchester.
We held rehearsal weekends at Rydal Hall, Ambleside, Cumbria in February 1997, 1999 and 2001. They provided the opportunity for extensive rehearsing, some "band bonding" and relaxation. The weekends were attended by band members, friends and players from other local bands.
In October 2000 the band performed in a joint concert with The Band Of The Light Division. We were busy throughout 2001 performing in numerous concerts and events. In November we entered the National Concert Band Festival regional finals gaining a gold award and again progressing to the national finals.
In July 2002 Miss Gabrielle Horne decided to stand down after fifteen years as our Musical Director and can now be found playing in our trumpet section. We have been fortunate in securing the services of Mr David Straughan who has accepted the position of Musical Director of the Wirral Symphonic Wind Band. He is no stranger to the W.C.W.B. having conducted and played trombone with the band on many occasions. He was particularly supportive of the band during it's early years.
The band was busy throughout 2003 performing a series of concerts which included two joint concerts with Bolton Chamber Choir to raise funds in support of African choirs. In May 2004 we held a play day at Thornton Hall Hotel, Thornton Hough. The later end of 2004 was extremely busy with five concerts and the National Concert Band Festival regionals in the the last six weeks of the year. We achieved a gold award in the regionals and progress to the national finals in Manchester in March 2005. The concerts included a very successful "Stage and Screen" themed concert at Pacific Road Arts Centre, Birkenhead. The band has performed further concerts at Pacific Road through 2006 and 2007 and will be returning there for the 2008 season (see "Concerts And Rehearsal Schedule" page for further information)
---
Navigate

Band Links - Links To Other Wind Band Web Sites