The Ophicleide Directory
(Last Updated - 22nd September 2009)
Welcome to the Ophicleide Directory. It is my hope to use this page to create a photographic directory of as many Ophicleides and their owners as possible. Send me a photograph and details about yourself and your Ophicleide and I will add them to the page. If you have a web site that features the Ophicleide let me know your URL and I will add a link.
E mail - john@jrdhome.plus.com
---
Mendelssohn - Elijah Featuring Monstre Ophicleide
MENDELSSOHN ELIJAH – THE ORIGINAL 1846 VERSION
Ex Cathedra & Orchestra of the Age of Enlightenment to recapture pivotal moment in Birmingham's cultural history .On 18 October 2008, Ex Cathedra and the Orchestra of the Age of Enlightenment (OAE) will recreate the premiere of Felix Bartholdy Mendelssohn's Elijah at Birmingham's Town Hall, the venue of the first performance in 1846. One of the most important moments in Birmingham's history, that concert established Birmingham on the international cultural map, but the version given has never been fully recreated until now.Elijah was commissioned by the Birmingham Triennial Music Festival and the composer conducted the premiere himself. It was an overwhelming success, with eight encores, and Mendelssohn wrote afterwards that "no concert of mine went so admirably the first time of execution or was received with such enthusiasm by both the musicians and the audience". But he revised the score before the second performance and it is the revised version which entered the canon.As we approach the Mendelssohn bicentenary in 2009, Birmingham-born-and-raised member of ExCathedra Derek Acock has undertaken extensive research to piece back together the original 1846performance. He has drawn on a variety of sources to make a new 1846 edition of the piece, most notably the organists' full score that Mendelssohn specially marked up for the premiere. That score was acquired by Birmingham Central Library in 1996 and this will be the first time that the information it holds has contributed to an 1846 recreation, giving confidence that the performance will be as close to the original version as is possible.Derek Acock said: "The version performed on 26 August 1846 at Birmingham Town Hall deserved the reception and accolades it received. Some commentators have suggested that the work was initially flawed, but I believe this performance will demonstrate that, on the contrary, some of Mendelssohn's first thoughts were better. The performance of the 1846 version of Elijah is not just an interesting historical exercise – it can stand in its own right.But recreating the original score is only part of the story. It has also been fascinating to discover that there were up to 400 performers and that the audience totalled 2,000. Modern health and safety legislation makes it difficult to imagine how they could have all fitted into Town Hall – but the records are clear!"This performance is part of Ex Cathedra's 40th (XL) Anniversary Project and the group will reassemble its XL Anniversary Chorus of over 100 professionally-trained singers. OAE will swell to over 70 period instrument players including the double woodwind and ophecleides used in 1846. The concert will be conducted by Jeffrey Skidmore, Ex Cathedra's Artistic Director who was also born and raised in Birmingham. The role of Elijah will be sung by James Rutherford and he will be joined by Mark Padmore, Diana Moore and Ex Cathedra's own team of highly acclaimed soloists.
---
Ophicleide Summit In Berlin, 2007
Ophicleide players Nick Byrne (Sydney Symphony, Sydney, Australia), Erhard Schwartz (Berlin, Germany), Douglas Yeo (Boston Symphony Orchestra, Boston, USA) and Mark Evans (Deutsche Oper, Berlin, Germany), gathered on September 3, 2007 at the Musikinstrumenten-Museum Berlin for the first ophicleide summit. This video shows (left to right) Byrne, Schwartz and Yeo in a reading of "Das treue deutsche Herz" arr. Rob. Müller. The instruments used are by Halarie/Sudre, Paris c. 1875 (Bryne), Eppelsheim, Munich 2007 (Schwartz) and Roehn, Paris c. 1855 (Yeo). The video was taken by Mark Evans and can be viewed on "YouTube" with the following link - http://www.youtube.com/watch?v=XUS-NJ8nSnI
---
Ophicleide Photo Gallery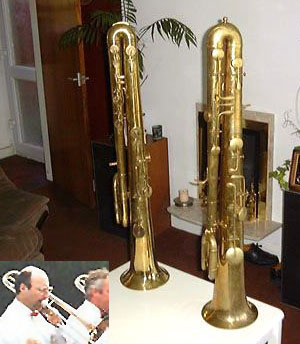 Inset - Me! - John Davies, playing trombone with Wirral Community Wind Band. Musical interests include alto and tenor trombone, tenor and bass sackbut, bass trumpet and ophicleide.

My instruments - left, 9 key Finck in C, Strasbourg, circa 1845 - right, 9 key Gautrot in C, Paris, circa 1850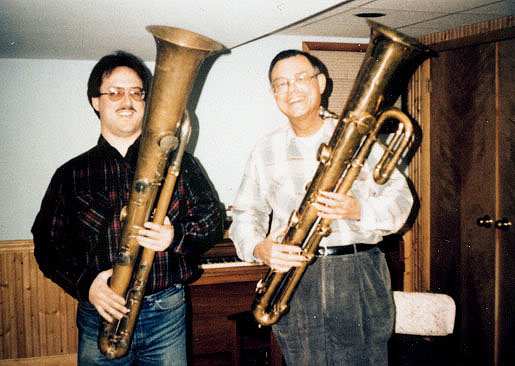 Left - Serpent Newsletter Editor Paul Schmidt. Paul writes "Mine is an American made, anonymous 11 key model, with heart-shaped ferrules and nickel plated keys and bocal".

Right - Serpent Newsletter Treasurer Dick George with his 9 key Gautrot, Paris circa 1850.

Paul with his "Box-O-Cleide" (left). It is made from 0.5cm Oak plywood with plywood keys and foam weather stripping and leather for pads. The keys have hardware store hinges and brass rods with rubber hose tips for the levers. The springs are rubber bands.It has nine keys and is pitched in Bb. Paul writes "It plays quite well and has a nice tone, clear and pleasant". Made at home using simple tools, it cost Paul three weekends and $60 US.

Paul has now added a contrabass squarpent (right) to the list of his oak plywood constructions. Construction details of a squarpent, box-o-cleide and contrabass squarpent can be found on the Serpentwebsite.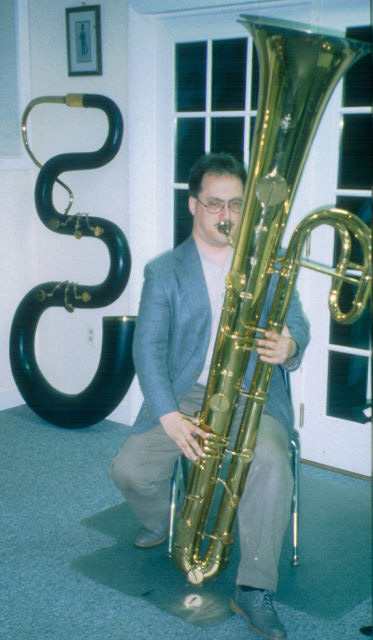 Paul again but this time blowing on the enormous Eb Monstre ophicleide manufactured by Robb Stewart (note the Anaconda in the background!).
Mark Jacobs with his 9 key Beauboeuf Freres C ophicleide, Paris circa 1850. The instrument was recently restored by Robb Stewart of Arcadia, California. Mark is principal trombone with the Rogue Valley Symphony Orchestra in Ashland, Oregon. Mark also owns and plays a Serpent and an English Bass Horn. More information at http://markejacobs.tripod.com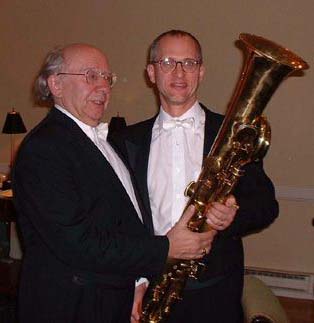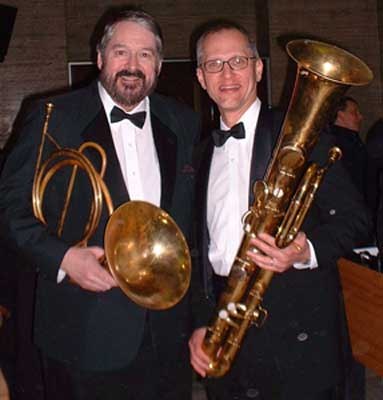 Left - Douglas Yeo (right of photograph) with his 9 key Roehn C ophicleide, Paris circa 1855. Bass trombonist with the Boston Symphony Orchestra, Doug also plays ophicleide and serpent with the orchestra when required. Pictured here with conductor Gennady Rozhdestvensky prior to a performance on ophicleide of Wagner's "Das Liebesverbot" in 2001. Doug has also recently performed on ophicleide with the BSO in the complete incidental music to Mendelssohn's "A Midsummer Nights Dream" (Seiji Ozawa) and Rossini's "The Siege Of Corinth" (James Conlon)
Right - Doug with natural horn player Lowell Greer. This photograph was taken in 2005 at the North American premiere of Berlioz's "Romeo and Juliet" on period instruments (Chorus Pro Musica, Jeffrey Rink, conducting).For further information visit Doug's website at http://www.yeodoug.com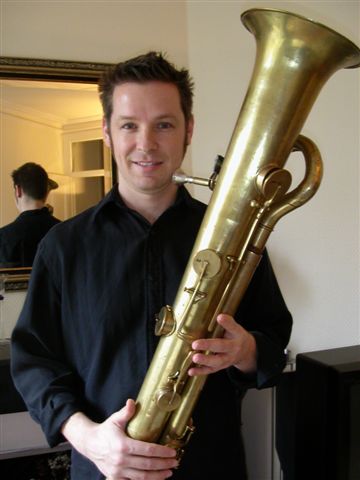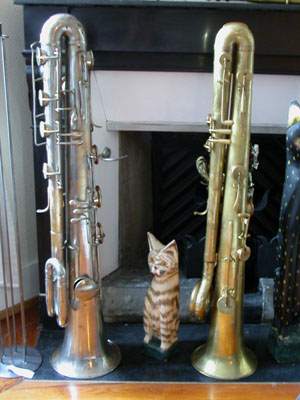 Nick Byrne (left) with a 9 key Finck C ophicleide, Strasbourg, circa 1840. Nick is 2nd trombone with Sydney Symphony Orchestra. The ophicleide on the left is owned by the orchestra and Nick has used it in a number of performances in Sydney, the most notable being a performance of the Berlioz Te Deum at the opening ceremony of the 2000 Olympics. Nick can be seen in the footage as Cathy Freeman climbs the stairs to light the flame. Nick purchased an ophicleide (right) from Andre Bissonet's instrument shop in Paris while studying in France with Marc Giradot. It is a Halari/F.Sudre circa 1875 10 keys pitched in C and appears to have been manufactured for a French Army band. Nick writes "It is of an incredibly solid build in its mechanism and metal thickness. This makes the dynamic potential of the instrument far greater than the Finck and almost 'modern' in its range. There is little or no wear on the mechanism due to its rugged build."
In August 2003 Nick performed an Ophicleide recital at the Melbourne International Festival of Brass. Other recent performances have included Mendelssohn with The World Orchestra For Peace in Moscow and St Petersburg in May 2003 and a National Tour with the Australian Chamber Orchestra in November 2003. Nick was invited to perform a solo work with Sydney Symphony Orchestra during the 2005 season. Nick now has his own website dedicated to the Ophicleide at ophicleide.com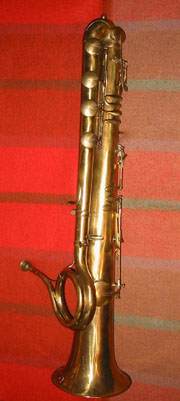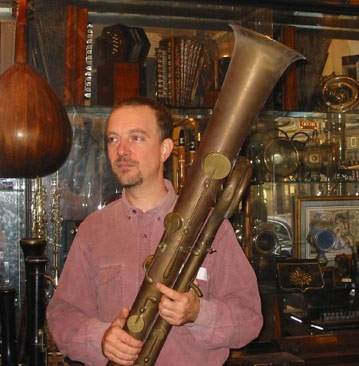 Paolo Fanciullacci from Italy is the owner of a Michaud ophicleide (left). It is pitched in C with 11 keys and was made in Paris circa 1870. Paolo is a maker of cornetts and has made approximately 200 over a period of 20 years. Paolo purchased his ophicleide on a recent shopping trip to Paris where he inspected 7 or 8 instruments. He can be seen "shopping" (above right) with a 9 key Bb ophicleide by Halary circa 1830.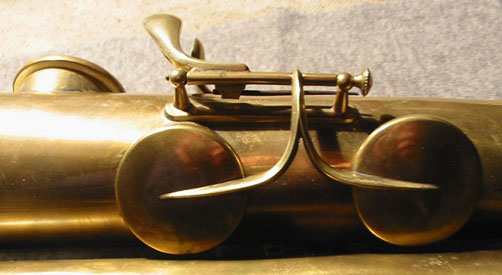 Paolo has pointed out a curious configuration on the E key of his 11 key Michaud ophicleide. He asks if any other maker has used this design?.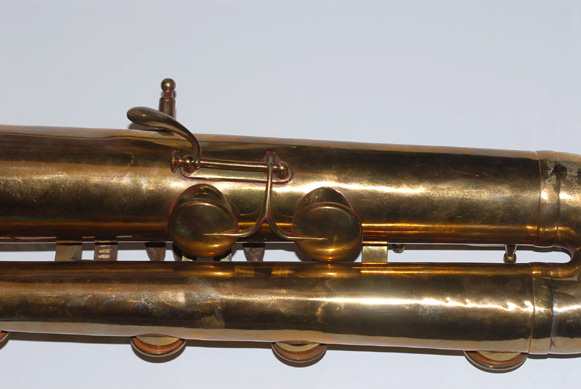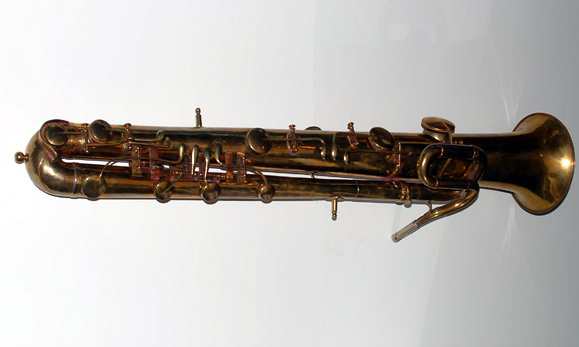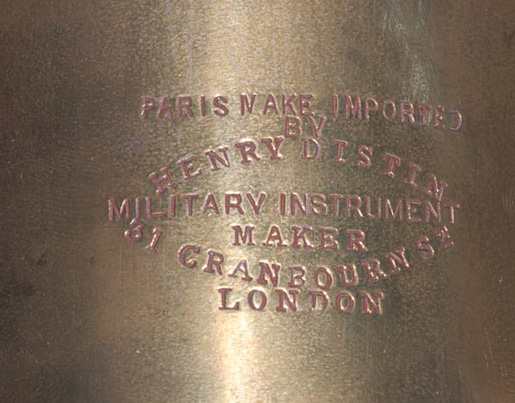 Steven Ward has E mailed to show a similar configuration on his 12 keyed ophicleide. Steven's instrument was made in Paris and imported by Henry Distin, Cranbourn Street, London.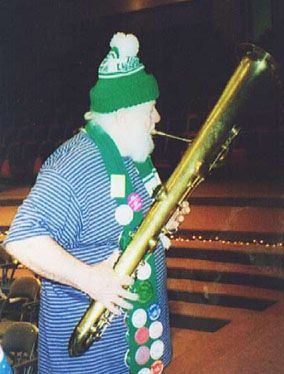 John J. Seaton with his anonymous 9 key C ophicleide, Paris circa 1850. John is seen in festive mood playing for the New York "TubaChristmas" at the Rockerfeller Centre, New York in 1997. John performed at the New York "TubaChristmas" for 25 years before he retired and moved to New Mexico. This has not dampened his enthusiasm as he recently played at the first "TubaChristmas" in Tuba City, Arizona.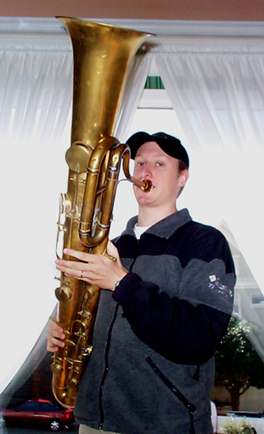 Hudson Graham with his anonymous 10 key French made ophicleide in Bb. The date of manufacture is unknown but it appears to be a particularly large looking specimen. Hudson runs his own web site which is used to display his collection of antique instruments. He also offers a range of antique instruments for sale including the occasional ophicleide. Further information from http://www.pipeline.com/~hgraham/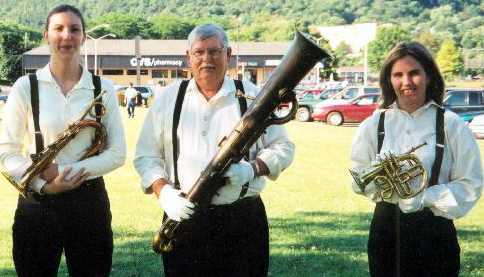 Guy Rachau of Coburn, PA. with his anonymous French? 9-key C ophicleide. Guy plays ophicleide and "over the shoulder" Eb Alto with the Coburn Brass, a quintet that plays primarily American Civil War era music. Guy can be seen above flanked by two other members of the quintet, Courtney Geary with 6-key keyed bugle by Key of London circa 1825 and Gro Torsethaugen with a cornopean circa 1840. The ophicleide was found in an attic and is thought to have belonged to the Coburn Cornet Band 1899-1923. In addition to owning the ophicleide, keyed bugle and cornopean, Guy also owns a replica o.t.s. Eb alto horn, a double belled euphonium and Eb helicon.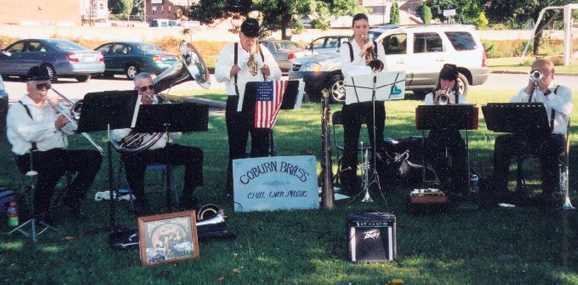 Above - Coburn Brass playing at Danville PA. July 2003. L to R - Robert Rachau, trombone; John Henninger, Eb helicon; Guy Rachau, Eb o.t.s.alto and ophicleide; Courtney Geary, keyed bugle; Gro Torsethaugen, Bb cornet and cornopean and Bill Fatula, Eb and Bb cornets. When not directing Coburn Brass, Guy also finds time to direct The Little German Band of State College PA. and The Penns Valley Mens Chorus as well as giving several seminars a year on antique brass instruments.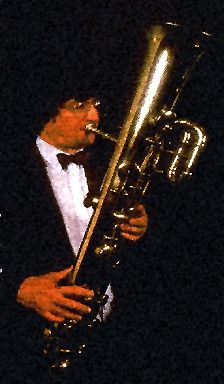 John Elliott with his French 11-key C ophicleide by Gautrot circa 1850. John has played ophicleide with many British orchestras including the English National Opera Orchestra - Damnation Of Faust (Berlioz), London Mozart Players - Midsummer Nights Dream (Mendelssohn), The Hanover Band - Zampa (Herold) and a recording of Di Ballo (Sullivan)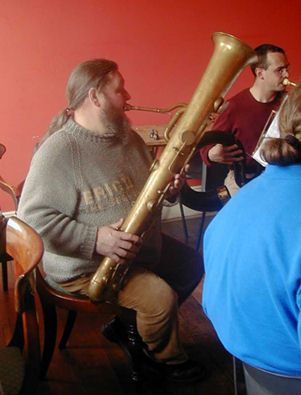 Wik Bohdanowicz with his French 9 key C ophicleide by Guichard of Paris. Wik is shown here in action at the 1991 Serpentarium. He is also the owner of a 10 key Breuget ophicleide which is in restoration.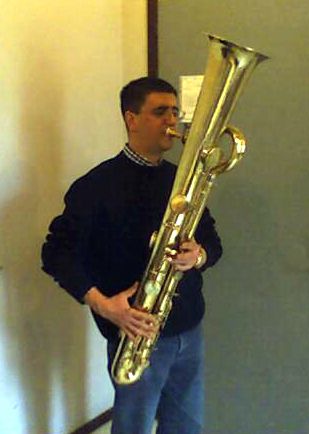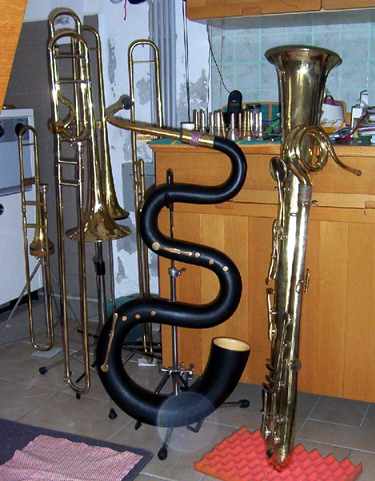 Corrado Colliard with his French C ophicleide by Sonier of Paris (1836-37). Corrado also plays sackbut, trombone, serpent, euphonium, bass trumpet et al. He has made a number of recordings with ensembles and as a soloist. For further information visit his web site at www.corradocolliard.it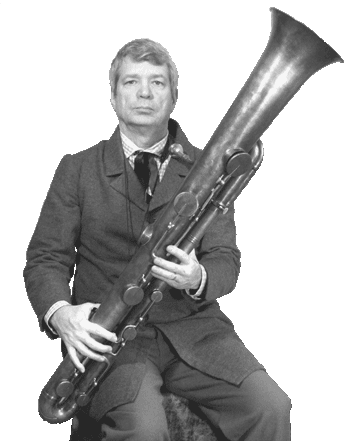 Kenton Scott of Pennsylvania, USA seen here with his ophicleide by Courtois Neveu Brevete a Paris. The instrument has nine keys and is pitched in Bb. Kenton is an active member of Wildcat Regiment Band which recreates both Civil War and Town Band using combinations of 'over the shoulder', 'keyed' and other suitable brass instruments. The keyed band instrumentation included Kent bugles, quinticlaves, ophicleides, period horns and trombones. A recent project is his website horn-u-copia.net which is dedicated to to collecting and cataloging information on antique, obscure and out of production brass instruments. Kenton is also arranger for both the Civil War and Town Band. He writes "There is a pretty fair amount of original music still available for the Civil War band....For the most part I only have to make parts more readable or construct a missing part....For the keyed band, there is very little of the original material available.... I generally have to take piano sheet music of the period and write arrangements in the style.....The music of the keyed bands apparently fell out of favour as the instruments did, so little survives".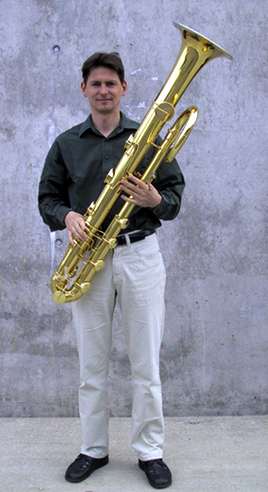 Erhard Schwartz with his newly designed 11 key ophicleide in Bb. The instrument was developed in conjuction with Benedikt Eppelheim of Munich. It was manufactured by Bernd Sander, Herman Schmidt, Beredikt Eppelheim and Jurgen Komnick. The instrument sells for around 9000 Euros and there is a case for 300 Euros. Erhard has also published an Ophicleide Tutor which is in German. He is planning both French and English versions. For further information and up to date prices visit his website simply called Ophicleide.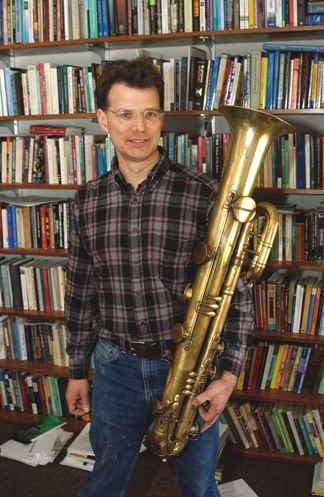 Clark Wolf of Ames, Iowa. Clark writes "My ophicleide is a C instrument made by Millereau in Paris. For several reasons I think it may be a late model - it has levers instead of teeter-totter keys, a tunable bocal, and a brace protecting the lower pads from bumping into the player's leg. It has 11 keys and 12 pads because of the double E key. It is lighter than many Ophis- the metal is rolled thin, almost like a modern instrument, in contrast to others I've played that are built like tanks. I find that it has a very open, free sound, very sweet in the mid and upper registers. I started using a Schilke 52D mouthpiece with it - the Millereau mouthpiece that came with the horn is in bad shape. But I'm now using a Besson mouthpiece from about 1900. It's the right shape and size to have been made for an ophicleide, but I can't be sure. I understand that Millereau was absorbed by Besson late in the 19th century, so maybe the substitution has some historical justification. I recently used this horn in a solo performance of Schubert's famous serenade, which I played with the Ames IA Community Band on a warm summer night with about 200 people in the audience. The performance went very well: I received a standing ovation, and people praised the sweet mellowness of the instrument's tone. In my spare time, when not playing or practicing Ophicleide, I teach in the department of Philosophy at Iowa State University"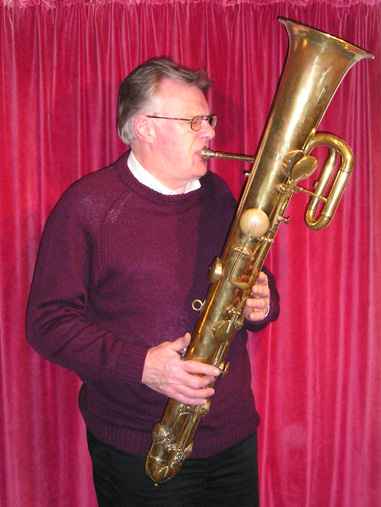 .
Jim Langley of Sheffield and Buxton, England. Jim is a collector and repairer of old brass instruments. He has three ophicleides in his collection, a Bb 10 key Gautrot (seen above), an unmarked 11 key Bb of English origin (possibly a Gautrot copy) and an 11 key C ophicleide marked J.Gras, Feur de l'armee, 52 rue des Pontes de Comines, Lille. Jim's collection of low brass also includes a 6 piston tuba by J Gras, a small F rotary tuba by Stowasser of Graslitz and an English Euphonium with Berliner pumpen by J.H. Hebblewhite, London.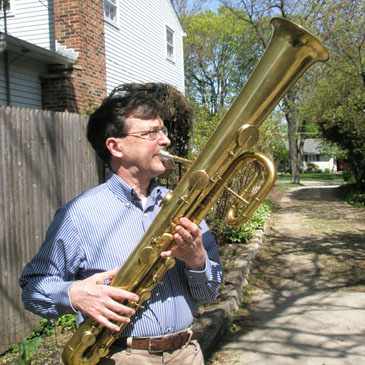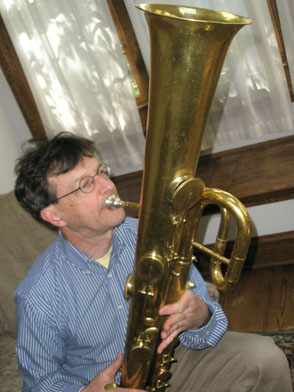 Keith Ryder of Wheaton, Illinois. U.S.A.. Keith can be seen playing a 9 key ophicleide by Colin of Paris. Keith also plays cornetto, lizard, keyed bugle and cornopean.

Robert Freeman of March, Cambs. England has emailed with the following interesting information. Robert writes "While visiting my Daughter today I picked up a copy of her newspaper, The Guardian, and saw the photo of the contrabass ophicleide that was coming to England for a concert. (Elijah, Birmingham,18th October 2008 - see top of page). This prompted me to search the web and I found a report from an American Newspaper. My interest was in who the original instrument was made by. My wife's maiden name is Goodison, and her Great Great Grandfather was James Goodison, Brass Musical Instrument maker 1832 -63, while his sons, John 1827 -54, William 1828 -1916, and Charles Attwood Goodison, 1837 - 98, were all involved in brass music in one way or another. I have twice seen an ophicleide by James Goodison in the museum at Saffron Waldon, Essex, (pictured above) It is in very poor condition.
Over many years I have been researching Goodison & found to date, 1 ophicleide, 3 slide trumpets, a keyed bugle, keyed trumpet, horn, cornopian and a double slide trombone by Charles Attwood. I have produced a 'draft' upon my research, which I sent to the Bate Collection in Oxford, there it stands at the moment. My wife, Rene, (above right) can be seen holding her Great Great Grandfather's ophicleide. The bell is stamped, 7 Sherrrard St, Soho, so that puts it between 1834 - 47. The slide trumpets are presently in Brussels, Paris and London. The horn is located in Oxford and the keyed bugle in the USA. The cornopean and double slide trombone are now in the Horniman Museum, London. The keyed trumpet in F is believed to be in a private collection in Hammersmith, London and is dated circa 1885.
James Goodison (1803 -1863 ) was born in Sheffield, and came to London and was married in February 1824. His elder son, William was in the Royal Marine Artillery until 1862, playing the trombone, when he was discharges with 'rupture, left side, supported by a truss, sustained by blowing the trombone'. He then joined his fathers business, Military Musical Instrument Makers. In his book "Talks With Bandsmen" Algenon Rose, mentions Charles Attwood Goodison, and bugle tests held upon Woolwich Common in early 1854, I feel sure William would have been involved, and have tried repeatedly, at Kew, to find mention in army records. No luck. Charles went on circa 1890 to be foreman at Rudall Carte, untill his death in 1898. That was the end of the music side of the family. William lived until 1916, becoming a commercial traveller for a match manufacturer.

---
Ophicleide Links
---
Ophicleide Discography
Berlioz - Benvenuto Cellini, Virgin Classics 7243 5 45706 2 9 (3 CDs), French National Orchestra, Radio France Chorus, John Nelson
Berlioz - Grande Symphonie Funebre Et Triomphale, Gossec - Symphonie Militaire etc., Nimbus Records NI5175 The Wallace Collection, John Wallace (Ophicleides - Stephen Wick and Stephen Saunders)

Berlioz - Messe Solennelle, Phillips re-issued as 4646882 (was 442-137-2) Orchestre Revolutionnaire Et Romantique, Monteverdi Choir, John Eliot Gardiner, Recorded 1994 (Ophicleide - Marc Giradot, Buccin - Stephen Wick, Serpent - Stephen Saunders)

Berlioz - Symphonie Fantastique, Les Francs-juges Op.3, Virgin Veritas 7243 5 61379 2 9, Recorded 1989 (Originally on EMI 7 49541 2), London Classical Players, Roger Norrington (Ophicleides Stephen Wick and Stephen Saunders)

Berlioz - Symphonie Fantastique, Phillips 434 402-2, Orchestre Revolutionnaire Et Romantique, John Eliot Gardiner, Recorded 1993 (Ophicleides - Marc Girardot and Stephen Wick)

"Carol Album 2" - EMI Classics D104902 (1993). Tavener Consort, Choir and Players, Directed by Andrew Parrott. Stephen Saunders, Ophicleide on one track only. (Hark! The Herald Angels Sing)

Chestnut Brass Company - "Hail To The Chief", Sony 62485. Also as "Tippecanoe And Tyler Too", Newport Classics NPD 85548. American Political Marches And Songs. Chestnut Brass And Friends. (Ophicleide - Jay Krush)

Chestnut Brass Company - "Listen To The Mockingbird" Newport Classics NPD 85516. 19th Century Brass Band Music. Chestnut Brass And Friends (Ophicleide - Jay Krush)

Chestnut Brass Company - "Distant Dancing" No catalogue number. Jay Krush - Ophicleide, Marian Hesse - Quinticlave.

Chestnut Brass Company - "Pastime with Good Company", Crystal Records CD562. Recorded 1988. Renaissance, Baroque and 19th Century Music Performed On Authentic Brass Instruments Of The Period. (Ophicleide - Jay Krush, tracks 8, 9 and 10. Quinticlave - Marian Hesse, tracks 9 and 10.)

History Of Brass Band Music - The Early Years 1850-1920. Doyen DOY CD162, Grimthorpe Colliery Band. Clifford Bevan, ophicleide (tracks 1 and 2)

Jazz Ambassador - Scott Robinson Plays The Compositions Of Louis Armstrong, Arbor Records, ARCD19275, Ophicleide Featured On Track "Yes! I'm In The Barrel" As Only Melody Instrument For The 5 Minute Selection

Le Monde du Serpent - Berlioz Historical Brass, BHB101. Recorded 2003. Gloria Dei Cantores choir, Jennifer Ashe (Soprano), Douglas Yeo (serpent and contrabass serpent), Ben peck (buccin), Craig Kridel (serpent), Phil Humphries (serpent and ophicleide). Available from www.yeodoug.com

London Gabrieli Brass Ensemble, Antique Brasses - Hyperion CDA67719, Christopher Larkin. Recorded 1999 (Ophicleide - Anthony George and Stephen Wick)

Mendelssohn - Athalia, Capriccio 67068 - Anna Korondi and Sabina Martin (Sopranos), Ann Hallenberg and Barbara Ochs (Altos), Dirk Schortemeier - Sprecher, Das Neue Orchester, Chorus Musicus Koln, Christoph Spering, Recorded 2002 (Ophicleide - Erhard Schwartz)
Mendelssohn - Elijah (Elias), Decca 455 688-2 (2 CDs) - Terfel(Elijah), Fleming(sop.), Bardon(contralto), Ainsley(tenor), Edinburgh Festival Chorus, Orchestra Of The Age Of Enlightenment, Paul Daniel, Recorded 1997 (Ophicleide - Anthony George)

Mendelssohn - Elijah (Elias), Harmonia Mundi France HMC 901463.64 - Salomaa(Elijah), Isokoski(sop.), Groop(contralto), Ainsley(tenor), La Chapelle Royale, Collegium Vocale, Orchestre des Champs Elysees, Philippe Herreweghe, Recorded 1993 (Ophicleide - Marc Girardot)
Mendelssohn - A Midsummer Nights Dream, Overture And Incidental Music, Glossa GCD 921101, Recorded Live 1997, Orchestra of The Eighteenth Century, Frans Bruggen (Ophicleide - Stephen Wick)

Multiple Instruments - MultiJazz MJ-101. Recorded 1984 - Scott Robinson - Ophicleide used on one track ("If I were a bell") with normaphon and double belled euphonium.
Music All Powerful - Music To Entertain Queen Victoria - LP Argo ZRG 596, Purcell Consort Of Voices, Grayston Burgess. (Ophicleide - Alan Lumsden).

No Roses - Shirley Collins And The Albion Band, CRESTCD011, Recorded 1991, (Track 5 Ophicleide - Alan Lumsden, Track 8 Serpent - Gregg Butler)
Ries, Ferdinand - "Die Konige in Israel" (Oratorio) CPO label available from JPC.de Das Kleinen Konzert conducted by Hermann Max, Rheinische Kantorei and soloists (Ophicleide - Erhard Schwartz)
"Sherlock Holmes Meets Doctor Who" - Music For Brass And Saxophone By Carey Blyton (Yes!! Enid's nephew). Includes "Revenge Of The Cybermen" Suite for trumpet, cornet, trombone, ophicleide and serpent. Upbeat Classics URCD148, Recorded 1999.
"The One Horse Open Sleigh" Pandourian PRCD1004 - Order This Disc By E Mail From neuman@uofport.edu (Ophicleide - Philip Neuman)
Wagner - Der Fliegende Hollander (The Flying Dutchman). 1841 Paris version on original instruments. Deutsche Harmonia Mundi 82876 64071 2 (2 CDs) Cappella Coloniensis, Bruno Weil conductor. (Ophicleide - Marc Giradot)
Wallace Collection - "The Origin of the Species", The Wallace Collection WC2013. Also Nimbus NI 5470, John Wallace. Recorded 1999. Virtuoso Victorian Brass Music From Cyfarthfa Castle, Wales. (Bb ophicleide - Stephen Wick and C ophicleide - Anthony George).
Wallace Collection - "Victorian Christmas", 19th Century Christmas Music And Carols. JVC 90282, Recorded 1996, With Trinity Boys Choir. (Ophicleide - Anthony George)
more suggestions please!
---
Ophicleide Music And Reference Books
Brass Instruments, Their History and Development, Anthony Baines. Contains chapter on "Transitional Method" which covers Keyed Bugle and Ophicleide. Published by Faber ISBN 0 571 11571 3

Hector Berloiz - Complete Ophicleide Parts - Volume One - Works with Single Ophicleide or Multiple Instruments in Unison Throughout. Edited by Clifford Bevan. Piccolo Press, 10 Clifton Terrace, Winchester, SO22 5BJ. U.K or you can E mail cliff@piccolopress.info

Hector Berloiz - Complete Ophicleide Parts - Volume Two - Works for Multiple Ophicleides [and other bass brass instruments] not in Unison Throughout. Edited by Clifford Bevan. Piccolo Press, details as above.

Felix Mendelssohn-Bartholdy - Complete Ophicleide, Serpent, Bass Horn and Tuba Parts. Edited by Clifford Bevan. Piccolo Press, details as above

The Trombone - Trevor Herbert. Published by Yale University Press (2006). ISBN 0-300-10095-7.

The Tuba Family (2nd edition) - Clifford Bevan. Chapters on Serpent, Bass Horn, Keyed Bugle and Ophicleide. In depth coverage of repertoire, makers and players. Piccolo Press, details as above. ISBN 1-872203-30-2

The Cambridge Companion To Brass Instruments. Edited by Trevor Herbert and John Wallace. Contains chapter on "Keyed Brass" by Ralph T. Dugeon. published by Cambridge University Press ISBN 0-521-56522-7

Roger Bobo article on the Ophicleide and Cimbasso (at TubaNews.Com)
---
Ophicleides For Sale Or Wanted
Advertise Here
Vintage Instruments Inc., Philadelphia, PA, USA - Ophicleides, Keyed Bugles And Other Brass For Sale.
---
Ophicleide Quotes And Humour

"....and his uncle who tried to commit suicide by shutting his head in a carpet bag, and his father who played the ophicleide and died insane as they all do"

(Virginia Woolf, Selected Letters to Vanessa Bell, 1916)
---