The Cimbasso Page
(Last update - 28th November 2008)
Welcome to the Cimbasso Page. This page is dedicated to all matters relating to the Cimbasso. Like The Ophicleide Directory it is intended as a catalyst for players of the cimbasso to come together and exchange views and information. Send me your photographs and pen pictures together with stories and comments for inclusion on this page.
E mail - john@jrdhome.plus.com
---
Cimbasso Photo Gallery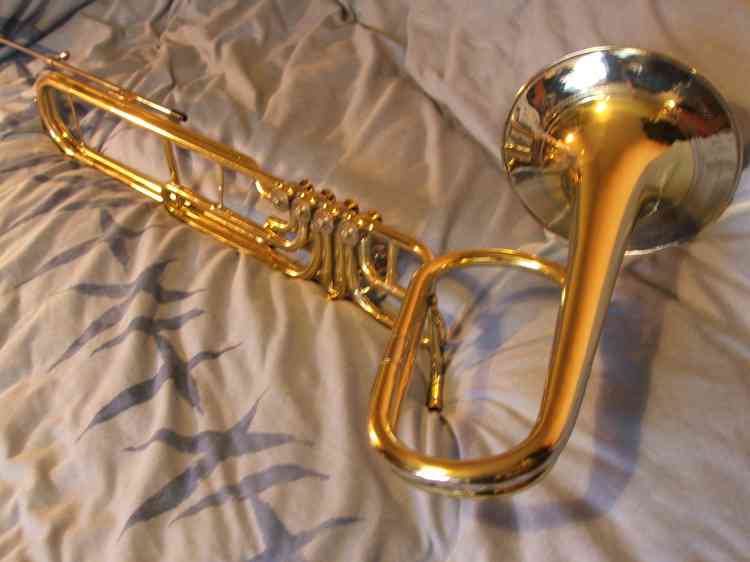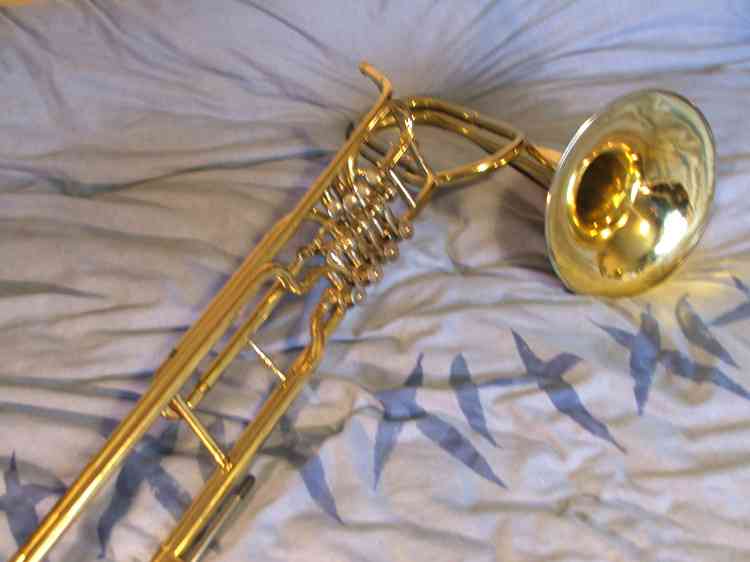 My Cimbasso. A conversion from an F valve trombone carried out by McQueens of Pendelbury, Manchester. The instrument is thought to date from around 1900 and the maker is Zazvonil of Kladno. The instrument is in gold brass and has four rotary valves operated by clock springs. It has a double coiled 11" bell with engraved garland. If anyone has any information relating to this maker I would be interested to receive it.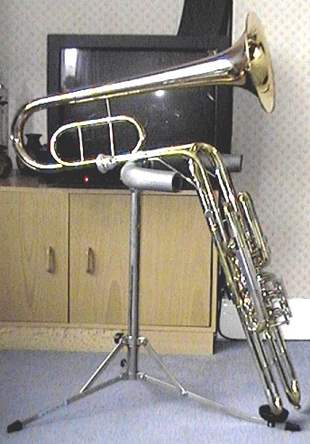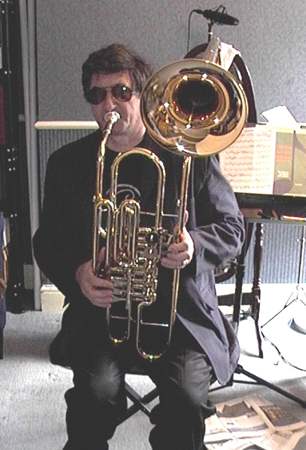 John Elliott with his Cimbasso by Mike Johnson of Bolton, UK. It is pitched in Eb with an ascending valve which is reversible so that the instrument can be pitched in F with a tunable fifth valve. The instrument is in gold brass with a 10-1/2" bell. John uses a Doug Elliott custom cimbasso mouthpiece and the instrument is transported in a case manufactured by Howard Wiseman.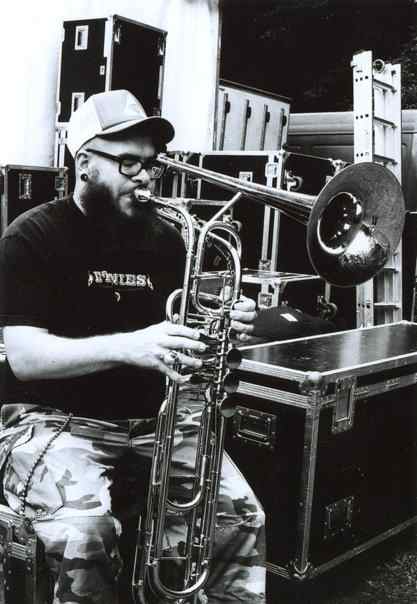 Mattis Cedeberg with his Haag Cimbasso. Mattis plays bass trombone, cimbasso and tuba with the WDR Big Band in Cologne, Germany. He writes "Lovely instrument, great pitch and center!" You can hear Mattis playing "I walk the waterfront" by following this link.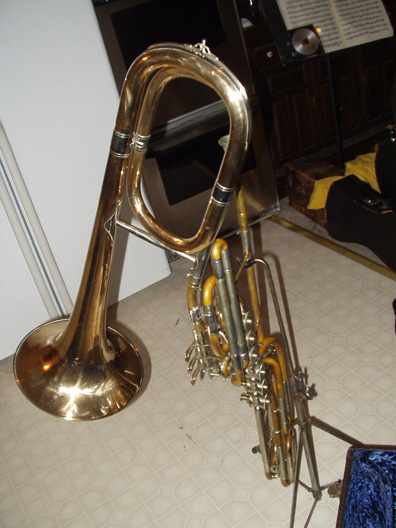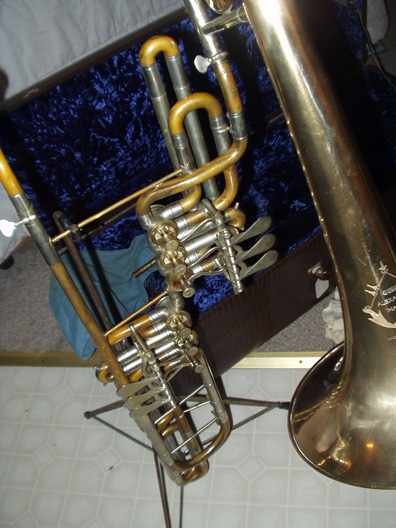 Floyd Reinhart has contacted me with images of a Cimbasso manufactured by Alexander of Mainz which belongs in the brass instrument collection of a late friend. Floyd writes..."an Alexander Cimbasso in F with 6 valves - 3 on each side. The left hand side has the normal F tuba fingerings once you add the extensions to the third valve....It has Alexander Mainz and W Germany engraved on the bell". Floyd is in contact with the manufacturer but would welcome any additional information that anyone can add.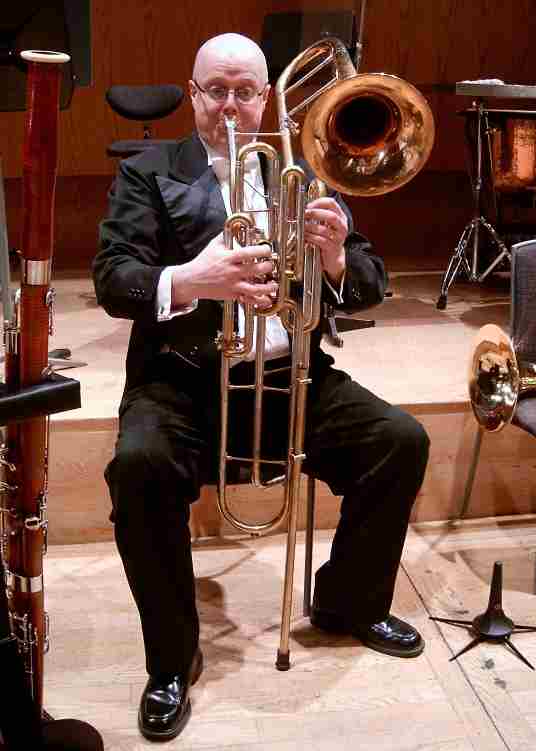 Mike Johnson of Bolton, UK - seen here playing an Eb/F Cimbasso of his own making. Mike plays tuba, cimbasso and a range of more exotic brass instruments as well as manufacturing, modifying and repairing them. For prices and other information contact mike.johnson@ukonline.co.uk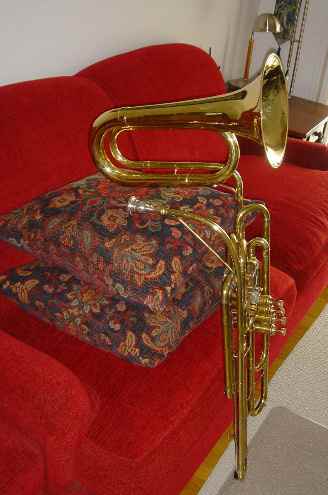 Sam Gnagey has sent an illustration of an Eb cimbasso of his own manufacture. Sam writes.."My instruments have been used in opera and symphony in Cincinnati, Indianapolis, Detroit, DesMoines and New York". Further information from tubanurse1@verizon.net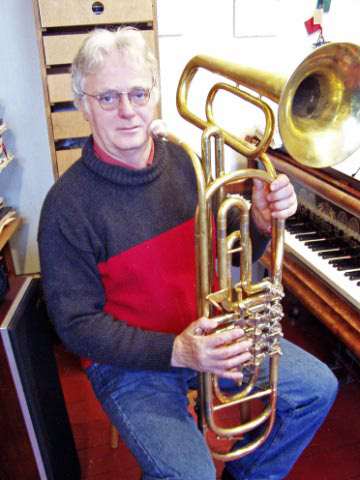 Loek vd Heide of Holland . Loek is holding a BBb cimbasso constructed by Ronald de Wilde of Kampen Overijssel, Holland. The instrument bell section is constructed from the bell of a single valve D/F marching horn. Loek hopes to use this instrument to add tone colour to some of his local bands in Frysian, Limburg and Zeeland.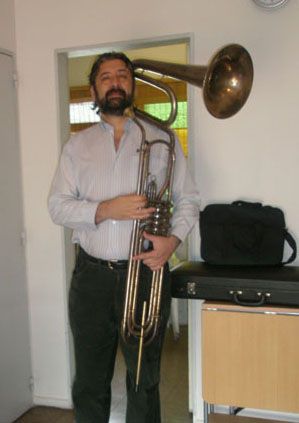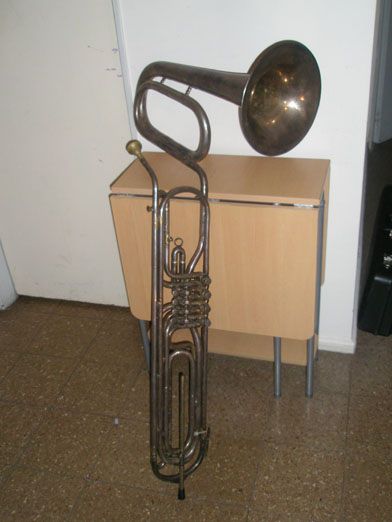 Fabian Prez of Buenos Aires, Argentina, pictured with his Italian made cimbasso by Rampone and Cazzani. Fabian is also a viola and tuba player and plays for the "off Colon" opera theatre. He is uncertain of the age of the instrument but thinks it was manufactured in the 1930s or 1940s. He purchased the instrument about 14 years ago. Fabian is a graduate in Mathematics (U.B.A.) and a telecommunications engineer.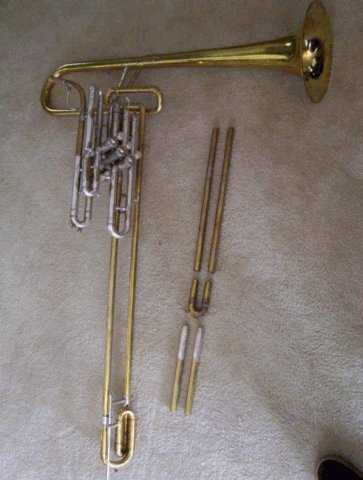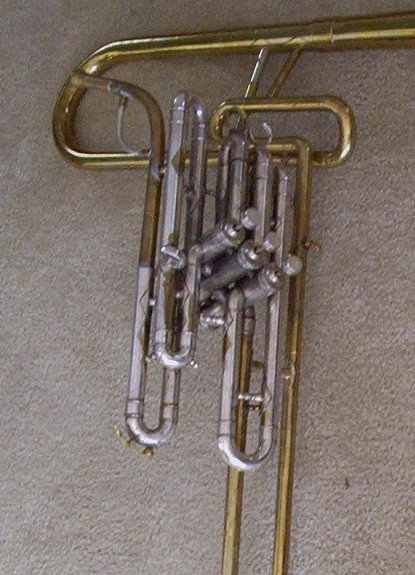 I have received these photographs from J. C. Sherman of Cleveland, Ohio, USA. J.C. writes "Attached are photographs of a cimbasso of my own manufacture from about 2000. The instrument is in CC with slides for BBb, and a 1/2-step extension for the 3rd valve to allow low F (on the CC side) or Eb (when in BBb). The instrument was used in the Cleveland Opera and the Cleveland Orchestra as well as being recorded with my brass quintet." J.C. is principal tubist with Opera Cleveland. He also owns and plays a Guichard 9 key (now 10 key) ophicleide which he recently restored.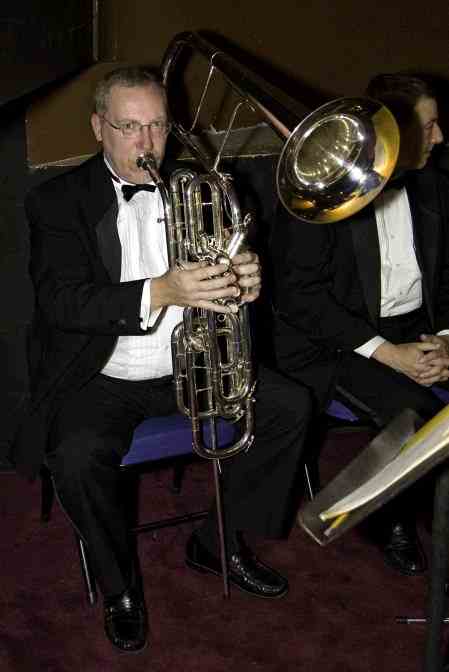 Adam Peck has contacted me with information about an interesting cimbasso. Adam writes "I am a tubist living in Muncy P.A. I play tuba in the Binghamton Philharmonic Orchestra, Tri-Cities Opera Orchestra, Brass Menagerie and several other groups. I am fortunate to have the use of this G&P Milano (formerly Kalison) F cimbasso which is owned by the Tri-Cities Opera. The instrument was donated to the opera company by my father Carlton E. Peck in my mother's memory. It has four pistons and one rotary valve. The rotary valve is set up to lower the pitch a flat whole step into Eb. This is the most common arrangement for tubas these days. In a CC tuba the fifth valve would put you into Bb. The instrument has a bore of 0.787" and a 10.65" bell". Adam can be seen in the photograph seated next to friend and trombonist Chris Mann.
---
Cimbasso Links
Cimbasso Manufacturers

Derek Farnell, 82 Crumpsall Lane, Crumpsall, Manchester, M8 5SG - Tel: 0161 740 7778

Gnagey, Sam (USA) - Eb Cimbassi. contact tubanurse1@verizon.net

Mike Johnson Of Bolton UK- Enquiries to mike.johnson@ukonline.co.uk

Orsi Wind - Verdi's Tuba

Suppliers

Accessories

Gold Chops - Mouthpieces And Gold plating Service

Sites Of Interest

TubaNews.Com - Articles on Cimbasso and Ophicleide by Roger Bobo

Variations On The Trombone - Bob Beecher's Site

Jim Self's Instruments - Collection Of Low Brass
---
Cimbasso Music And Reference Books
Brass Instruments, Their History and Development, Anthony Baines. Published by Faber ISBN 0 571 11571 3

The Tuba Family (2nd edition) - Clifford Bevan. Chapters on Early and Modern Cimbasso. In depth coverage of repertoire. Piccolo Press, 10 Clifton Terrace, Winchester, SO22 5BJ. U.K or you can E mail PiccoWinch@aol.com ISBN 1-872203-30-2
The Cambridge Companion To Brass Instruments. Edited by Trevor Herbert and John Wallace. Contains section relating to Cimbasso by Clifford Bevan. Published by Cambridge University Press ISBN 0-521-56522-7
The Trombone - Trevor Herbert. Published by Yale University Press (2006). ISBN 0-300-10095-7
---