Bass Trumpet Directory
(Last Updated - 28th October 2008)
Welcome to the Bass Trumpet Directory. In this page I hope to create a resource for Bass Trumpet players and a photographic directory of as many Bass Trumpets and their owners as possible. Send me a photograph and details about yourself and your instrument and I will add them to the page. If you have a web site that features the Bass Trumpet let me know your URL and I will add a link.
E mail - john@jrdhome.plus.com
---
Bass Trumpet Gallery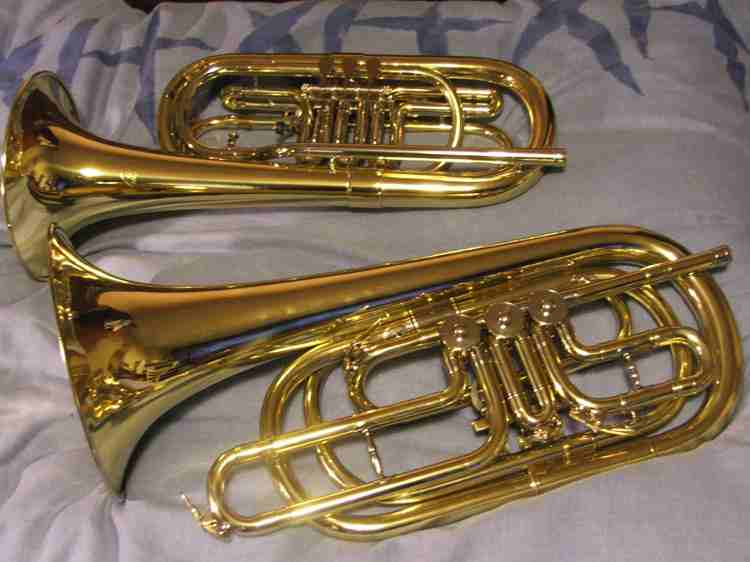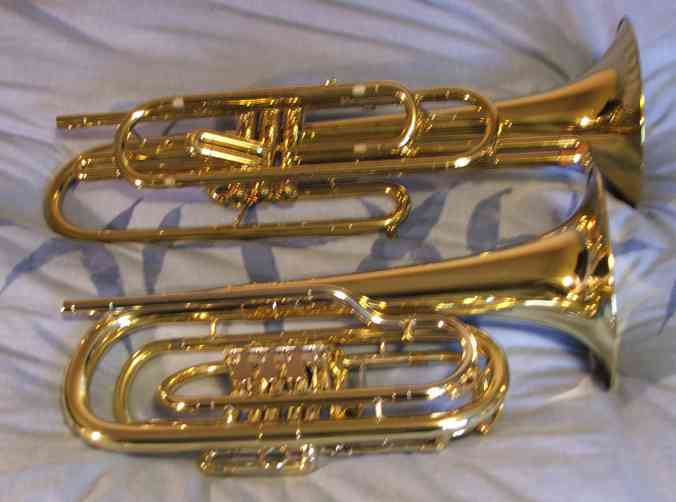 Three bass trumpets from my own collection. Upper left is a Cerveny rotary valve model CTR590X which has a 0.461" (11.70mm) bore with a 7.5" (190mm) bell. Lower left is a recently restored rotary valve bass trumpet, manufacturer unkown, which is completely unmarked apart from a sailing ship on the bell (see below). This instrument has an 8.5" (216mm) bell and a large bore of approximately 0.520" (13.20mm).

Upper right is my piston valve Getzen 994 Eterna bass trumpet shown along side the Cerveny by way of a size comparison. The Getzen has an 0.486" bore (12.34mm) with a 7.75" bell (197mm)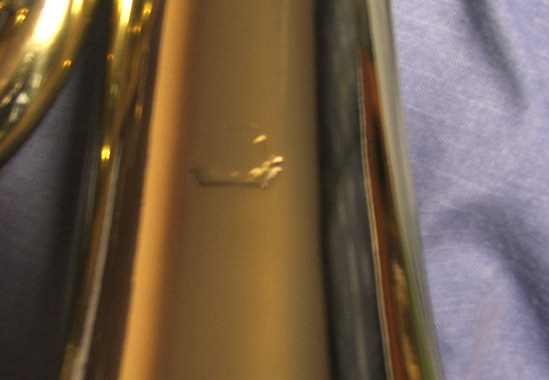 Bell detail of my unidentified bass trumpet showing the rubbed but still visible sailing ship. I would be grateful for any information relating to this instrument and manufacturer.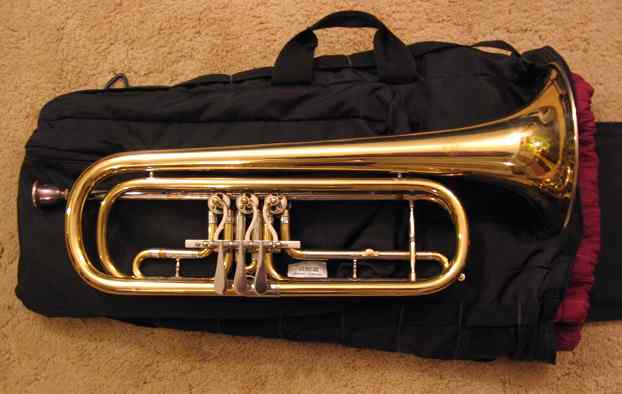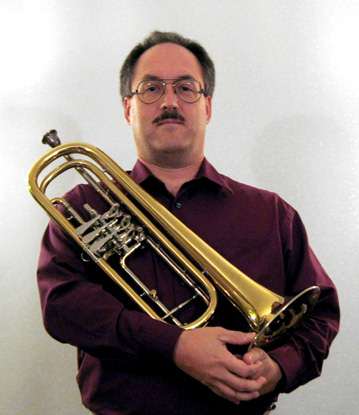 Serpent Newsletter Editor Paul Schmidt. Paul is pictured with a Model 37 Miraphone bass trumpet. When not playing his bass trumpet Paul can be found blowing a variety of exotic instruments including the serpent and ophicleide.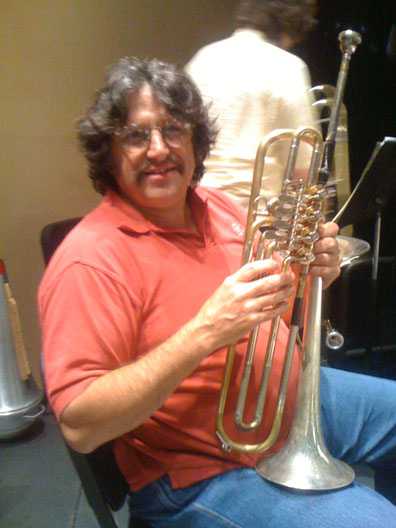 Tony Clements of California, U.S.A. Tony writes "Here's an Eb bass (tenor?) trumpet that was made for me to play the "Rite of Spring". It started its life as a 1930's vintage trombone bell, into which was made an Eb bugle by Frank Doting of Grass Valley, Califonia. After playing the bugle, I thought it would be a great Eb trumpet so I ordered a set of Eb bass trumpet valves from Alexander in Mainz, Germany. After I got the valves from Alexander, the instrument was assembled by John Sandhagan of La. Ca." When not playing his trumpet Tony can be found camping, riding his beloved Harley-Davidsons or Directing the Ohlone College and Ohlone Community Bands.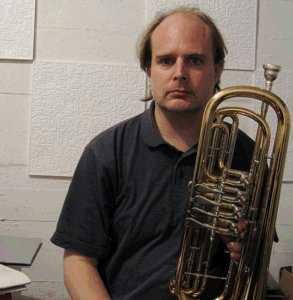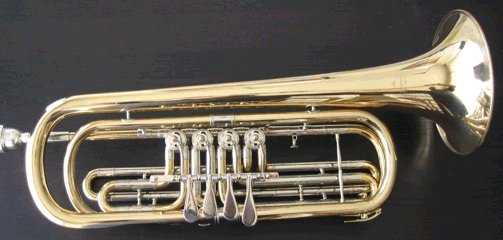 Flavio Spirgi of Zurich, Switzerland. Favio writes "I play bass trumpet as my secondary main instrument, I'm also a tuba player. I play jazz and other forms of improvised music. The bass trumpet pictured is my beloved Miraphone 374." Flavio also plays euphonium and baritone. Visit his website for further information at www.spirtuba.ch
---
Bass Trumpet Manufacturers
Alexander - Model 19 C rotary valve bass trumpet. Also available in Bb.

Amati - Rotary bass trumpets manufactured under the Cerveny name.

Bach - B188 piston bass trumpet in Bb.

Baumann - Rotary valve bass trumpet in Bb.

Conn - Model 4B piston bass trumpet - NO LONGER IN PRODUCTION.

Dotzauer (at Musikhaus Sonnleinter) - Hand made rotary model in Bb - also at Dotzauer (ASWLD.com) - Dotzauer rotary trumpets.

Getzen - 994 Eterna piston bass trumpet in Bb.

Gopp - Rotary valve (3) bass trumpet in Bb.

Helios - Rotary valve (3) bass trumpet in Bb. 12.5mm bore, 155mm bell.

Jin Bao - Rotary valve trumpet of Chinese origin. In Bb, 3 valves.

Kromat - Bass trumpet in C with 4 rotary valves. Set of Bb slides included

Latzsch - BTR1000 model, 4 rotary valve C bass trumpet.

Lidl-Brno - Model LTR591 3 rotary valves in Bb - also at Lidl (Musikhaus Sonnleinter). Also with 3 piston valves.

Meinl Weston - F/Eb, C (4 rotary) and Bb (3 rotary) bass trumpets.

Miraphone - (at Musikhaus Sonnleiter) Model 37, 3 rotary valves in Bb.

Orsi - Model TR213 3 piston and model TR151 3 rotary, both in Bb. Available to special order only.

Stagg - Model 77-TS 3 rotary valves in Bb - cheapest on the market(?)

Thein - Rotary valve bass trumpets in Eb or in C with optional Bb slides.

Voigt - Rotary valve bass trumpets with 3 or 4 valves in both C and Bb.
ANY OTHERS?
---
Bass Trumpet Links
---
Bass Trumpet Material
Edition-Walhall - Fed up struggling with strange transpositions?. This publisher offers the complete sets of orchestral bass trumpet parts for Wagner - Ring, Janacek - Sinfonietta, Stravinsky - Le Sacre du Printemps (Rites of Spring), Rihm - Lichtzwang ALL TRANSPOSED INTO C. (search the German site under brass for "Wagner" or "Stravinsky/Janacek/Rihm")
---
Bass Trumpet Reference Books
Brass Instruments, Their History and Development, Anthony Baines. Published by Faber ISBN 0 571 11571 3. Section on the bass trumpet with illustrations.
The Cambridge Companion To Brass Instruments. Edited by Trevor Herbert and John Wallace. Published by Cambridge University Press ISBN 0-521-56522-7.
The Trombone - Trevor Herbert. Published by Yale University Press (2006). ISBN 0-300-10095-7. Passing remarks only.
---
Bass Trumpet Humour

Why is the bass trumpet considered to be a divine instrument?

......because man blows it but only god knows what comes out the end of it.

All contributions welcome.
---